Cureus March 2021 Newsletter
March 12, 2021 | Newsletter
JOURNAL OF MEDICAL SCIENCE
NEWSLETTER | MARCH 2021
Hi,
2021 Match Day is right around the corner. On Friday, March 19th thousands of medical students will be finding out where they'll spend their residency. In honor of this incoming group of medical residents, we're highlighting some recently published articles on the match process and medical residency. Good luck to all of you future residents out there!
---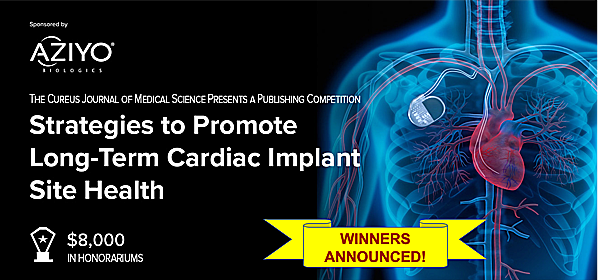 The Strategies to Promote Long-Term Cardiac Implant Site Health publishing competition has come to a close and the following winning articles were determined by their Cureus SIQ score*!
1st place (8.54 SIQ) - $5,000 honorarium: 'Strategies to Promote Long-Term Cardiac Implant Site Health' by Taleski and Zafirovska
 
2nd place (8.39 SIQ) - $2,000 honorarium: 'Evidence-Based Strategies to Promote Long-Term Cardiac Implant Site Health: Review of the Literature' by Licari, Viola, Carolla, Campanella and Salamone
 
3rd place (8.16 SIQ) - $1,000 honorarium: 'Surgical Techniques, Complications, and Long-Term Health Effects of Cardiac Implantable Electronic Devices' by Richardson, Prempeh, Gordon, Poyser and Tiesenga
Congratulations again to the winning authors. We'd also like to thank the Cureus community and our sponsor, Aziyo Biologics, for making this competition a success. You can browse through the entire library of competition articles via the button below.
VIEW COMPETITION ARTICLES
---

ORCID iD integration is back - visit your Cureus profile to link your ORCID iD!
Applying for reimbursement but can't find your receipt from a past Preferred Editing purchase? Now you can resend the receipts from prior Preferred Editing purchases by selecting 'Resend PE Receipt' from the dropdown menu next to your article on your dashboard.
If you've recently had an article deferred for Preferred Editing, you might have noticed that we've tweaked our PE pricing model. In order to more accurately assess the work required for your articles, we've reduced the size of the word count tiers to only 1,000 words each (except for the very first tier which goes up to 1,500).
As a result you will see articles priced both lower and higher than before based on the word count. Fine-tuning our Preferred Editing pricing model is a never-ending project to ensure that prices fairly reflect the time and attention to detail required by our dedicated team of copy editors while also remaining affordable and fair to you.
VIEW DASHBOARD
---
Cureus is dedicated to reducing the barriers many physicians and researchers face when writing or accessing medical articles and we couldn't do it without your support. We hope you will continue with us on this journey towards a democratic and equitable medical publishing future.
We're still working on the redesign of our author and reviewer guides to make it easier for you to find the information you need. We'll be back with more info next month!
- The Cureus Team