Cureus February 2021 Newsletter
February 19, 2021 | Newsletter
JOURNAL OF MEDICAL SCIENCE
NEWSLETTER | FEBRUARY 2021
Hi,
Thank you for your continued support of the Cureus Journal of Medical Science. Read on for our latest news and updates.

The next time you read an article in Cureus you'll notice some subtle tweaks to the tab style and organization. Here's what it all means:
Article: Okay, this one is pretty self-explanatory. Scroll down to read the article!
Authors etc.: Here's where you'll find the complete list of authors and their institutional affiliations, any human/animal subjects information, COI disclosures, DOI, publishing history and citation information.
Metrics: Clicking this tab opens a new page with a variety of charts illustrating article reads and PDF downloads.
Comments: Start or add to the discussion by leaving your comment below the article! (The corresponding author will be notified.)
Figures etc.: Focus on the figures, tables and video with a dedicated view in this tab.
---
You've worked hard to produce quality research. Let us help you promote it.
Check out our new Social Boost page to learn more about the benefits of promoting your research via social media and why article metrics matter.
GIVE YOUR RESEARCH THE BOOST IT DESERVES!
---
New academic channel: Alabama College of Osteopathic Medicine Research
The Alabama College of Osteopathic Medicine (ACOM) is a mission-driven, four-year, comprehensive osteopathic medical school located in Dothan, Alabama. As the academic division of Southeast Health, a regional health system, the private, non-profit college was founded in 2010 to help address the primary care physician shortage in Alabama.

 

Rural health is at the heart of the Alabama College of Osteopathic Medicine (ACOM), and to that end, ACOM supports the integration of ideas through this channel.

 


VIEW ACOM CHANNEL
---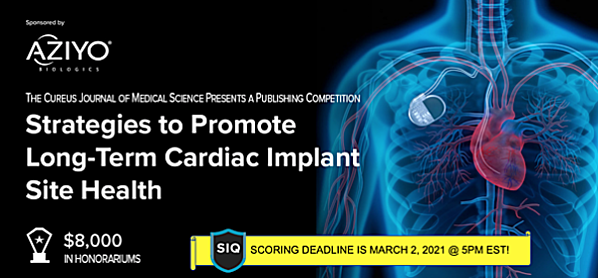 The Strategies to Promote Long-Term Cardiac Implant Site Health publishing competition is drawing to a close and now it's up to you to determine the winning articles. Reviewing with SIQ is easy - just click 'View and score articles' and then select the article you'd like to read and rate.
Competition scoring is open through Tuesday, March 2 until 5:00 pm EST. (You may assign only one score per article.)
Lastly, please avoid using Internet Explorer (version 8 or older) when scoring articles - Google Chrome, Firefox, or Safari are all recommended alternatives. Thanks in advance!
VIEW AND SCORE ARTICLES
---
Reminder: submitting author is responsible for all author names/affiliations
While your co-authors can edit their name and affiliation in their Cureus profiles, their changes will not be reflected in articles submitted to or published in Cureus. Author names and affiliations for all authors listed in an article must be edited by the submitting author. It is the submitting author's responsibility to enter or revise all co-author name and affiliation information and ensure accuracy and consistent formatting.
---
Cureus is dedicated to reducing the barriers many physicians and researchers face when writing or accessing medical articles and we couldn't do it without your support. We hope you will continue with us on this journey towards a democratic and equitable medical publishing future.
We're also working on an exciting redesign of our author and reviewer guides to make it easier for you to find the information you need. We'll be back with more info next month!
- The Cureus Team