Cureus August 2021 Newsletter
August 31, 2021 | Newsletter
JOURNAL OF MEDICAL SCIENCE
NEWSLETTER | AUGUST 2021
Hi,
We've revamped many of our informational pages to provide interested readers with a more efficient and attractive browsing experience. Take a look below!
New reviewer dashboards with keywords, reviews on demand, and more!
Manage your peer review invitations, download your reviewer certificate, and update your reviewer keywords all on one page. Qualified reviewers will also have access to on-demand peer reviews by clicking the Review Now button.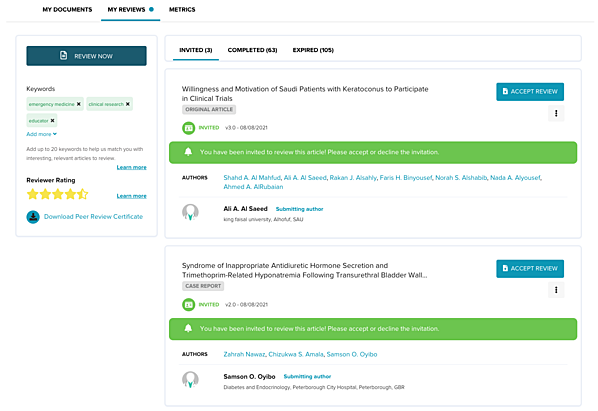 Have you opted-in to our peer review panel? If so, please take a moment to add your reviewer keywords if you haven't done so already! This will help us match you with interesting, relevant articles to review.
ADD REVIEWER KEYWORDS
---
Is your organization interested in a Cureus channel?
Your channel homepage serves as a branded gateway to your organization's Cureus content. Your hand-picked editors manage all content from submission to publication. With a customizable and easy-to-update design, your channel will reflect your brand while helping to attract physician referrals and promote the clinical and academic research performed by your members, faculty, residents or students.
Click below to learn more about how a Cureus academic channel can benefit your organization!
LEARN MORE ABOUT CHANNELS
---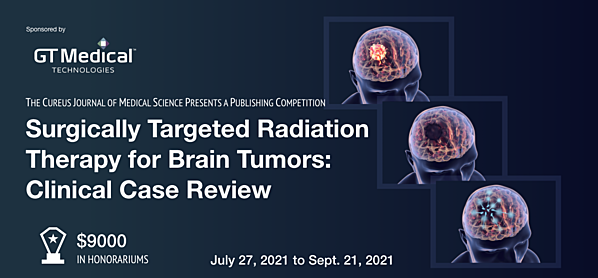 Now accepting article submission for our latest publishing competition!
We are seeking case reports and case series that explore and document clinical results for brain tumors to encourage continued research and knowledge sharing of recent advances in surgically targeted radiation therapy for brain tumors.
Three monetary honorariums ($3,000 USD each) will be awarded to the highest-rated case report in each histology: glioma, meningioma, and brain metastases. Article ratings are determined via SIQ, Cureus' unique crowdsourced, post-publication peer-review process, where the community-at-large rates each article's clinical importance and presentation quality.
Key dates: 
Tuesday, September 21 – Submission deadline @ 5:00 pm ET 
Tuesday, November 16 – SIQ scoring deadline @ 5:00 pm ET
Thursday, November 18 – Winning articles announced
VIEW COMPETITION
---
Publishing an article in Cureus and eager to tell the world?
Make sure to use the hashtag #Cureus when tweeting about your article. Not only will this assist readers in finding all Cureus tweets in one place, but it will make it easier for us to retweet you to our followers!
And while we're on the topic of social media, don't forget to join our LinkedIn and Facebook groups to connect with fellow authors, peer reviewers and readers!
---
Interested in skipping our PMC embargo for faster indexing?
Purchase our Expedited PMC Indexing service to bypass our one-month indexing embargo. (Or purchase a bundle at a discount!)
Authors who want to maximize their article's reach and audience can purchase a Premium Plus Social Boost. The additional cost goes directly to purchasing more social media ad placements for your article!
---
Cureus is dedicated to reducing the barriers many physicians and researchers face when writing or accessing medical articles and we couldn't do it without your support. We hope you will continue with us on this journey towards a democratic and equitable medical publishing future.
- The Cureus Team