Cureus January 2021 Newsletter
January 29, 2021 | Newsletter
JOURNAL OF MEDICAL SCIENCE
NEWSLETTER | JANUARY 2021
Hi,
We did it - 2020 is finally over. We don't need to list the reasons why it was such a challenging year - you know them just as well as we do. Before we close the book on this tumultuous year, we want to take a moment to review our growth as a journal as well as the many improvements made by our tireless team.
2020 was indeed the biggest year yet for Cureus, but we want to emphasize that none of this would've been possible without your support. The Cureus community of clinicians, researchers and interested readers has grown significantly over the past few years and we take seriously our responsibility to provide each and every one of you with a quality experience. Thank you for your support!
Cureus 2020 in Review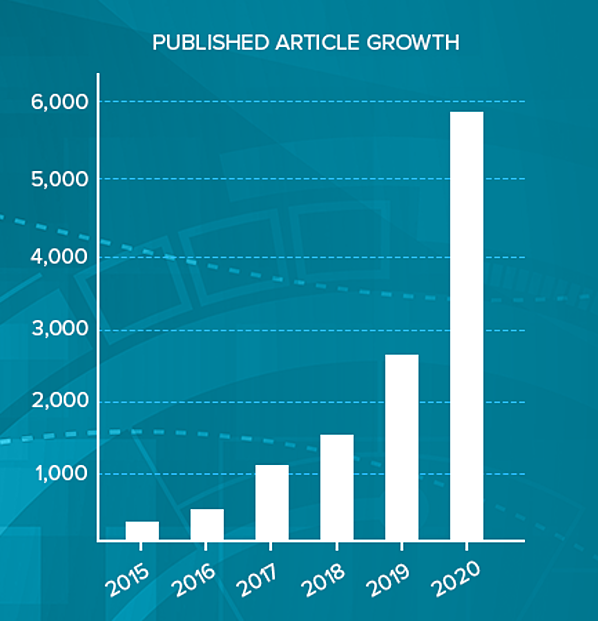 Cureus published 5,884 peer-reviewed articles in 2020, a 116% increase over our 2019 total of 2,719. As always, every one of these articles is available free of charge to all interested readers.
Last year also saw a nearly 300% increase in total article views with over 15.2 million across Cureus and PMC! The publishing world is increasingly moving towards an Open Access-only future and we're proud to be leading the way!
---
In addition to our huge jump in publications and readership, we never stopped working to improve the journal and your experience as an author, reviewer or reader. Listing all of the major changes would require a much longer email so here are some highlights:
Our Cureus Honors rewards program allows active authors, reviewers and readers to earn a variety of benefits. Progress towards one of our rewards tiers can be tracked via the new Cureus Honors Dashboard located on your Cureus profile page. Have you already qualified for a rewards tier? Take a look and find out!
Advanced metrics for all published articles are now visible to all Cureus readers! Article views, PDF downloads and citation reporting from multiple indexes can be viewed by clicking the 'Article Metrics' link on any published article page. Both Cureus and PMC article views and PDF downloads are visible as well as article reads over time and by country. Readers and authors can see how many times an article is read, downloaded, and cited, and even which states and countries make up the majority of its audience.
Our Social Boost option allows authors of high-quality articles to purchase social media exposure. Authors of qualifying articles will have the option to purchase a standard or premium social boost to increase awareness of their research and get their article in front of a larger audience of medical and healthcare professionals.
We also improved the design and performance of our search engine so you can quickly find articles, authors and posters. Last, but not least, auto-updating peer review certificates were added to the dashboards of all users who have completed at least one article review. You can download your certificate right now on the My Reviews tab of your dashboard.
HOW TO PROMOTE YOUR ARTICLE
---
We also welcomed 10 new academic channels in 2020. Departments and organizations continue to recognize the value delivered by a Cureus academic channel, which simply can't be matched by costly internally-produced newsletters and journals.
As part of our groundbreaking arrangement with several Florida-based medical schools, we have expanded the FLAGSHIP brand to include the following schools, each of which can be selected when submitting to the FLAGSHIP channel:
Florida Atlantic University
Florida International University
Florida State University
Lake Erie College of Osteopathic Medicine (LECOM)
Nova Southeastern University College of Osteopathic Medicine
University of Central Florida
University of South Florida
LEARN MORE ABOUT CHANNELS
---
---
Cureus is dedicated to reducing the barriers many physicians and researchers face when writing or accessing medical articles and we couldn't do it without your support. We hope you will continue with us on this journey towards a democratic and equitable medical publishing future.
With gratitude,
The Cureus Team