Cureus November 2020 Newsletter
January 06, 2021 | Newsletter
JOURNAL OF MEDICAL SCIENCE
NEWSLETTER | NOVEMBER 2020
Hi,
Welcome to another installment of the Cureus Journal of Medical Science's monthly newsletter. We have a ton of exciting updates to share with you this month so let's get right to it.
Introducing the Cureus Associate Editor team!
Your article has satisfied peer review and you've made revisions and submitted for publication approval. Wondering what happens next? Meet our team of Associate Editors who review each and every article submitted for publication in Cureus.
Our Associate Editors hail from a variety of backgrounds and specialties across the world. As Cureus continues to grow in size we will also continue to expand our editorial team. Are you interested in becoming a Cureus Associate Editor? If you have a medical degree and strong academic publishing background please send your CV and a list of peer-reviewed publications to [email protected] to learn more!
---
Transparency is a key aspect of the Cureus publishing experience and we're making changes across the journal to ensure that authors and reviewers know exactly what to expect during each step of the process. As a reminder, Editor Approval consists of two distinct steps: 1) the final editorial review of your article by one of our associate editors followed by 2) copy editing and approval for publication.
We've added new article history information to your dashboard allowing you to see exactly when our final editorial review has been completed as well as when copy editing has been started and finished.
Do you have an article in Editor Approval? Visit your dashboard and click on the blue Editor Approval button to view detailed history of your article's publication process.
---
Is your article having trouble attracting a Cureus-invited reviewer?
Last month we told you about our new requirement that articles undergoing peer review receive at least one completed review from a Cureus-invited reviewer. To ensure that articles are not needlessly delayed while awaiting a Cureus-invited reviewer, we've implemented a 21-day timer for this requirement. If your article has otherwise satisifed peer review after 21 days, you will no longer need to wait for a Cureus-invited review. (Articles featuring a Cureus Laureate author do not require a Cureus-invited review.)
We will continue to monitor peer review progress and may make additional changes if needed. At the end of the day, we want to facilitate strong, constructive review, but we also don't want you to wait forever! 
---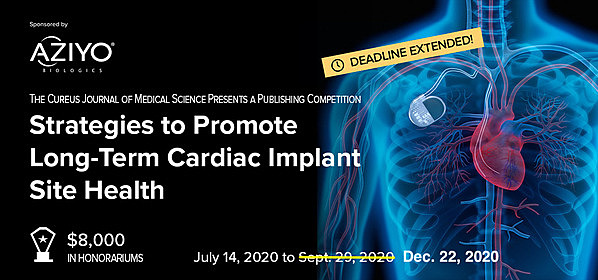 There is still time to submit your article to the Strategies to Promote Long-Term Cardiac Implant Site Health publishing competition!
Requirements: We are seeking the following: case reports/series, original articles, technical reports and review articles that contribute to deeper understanding of implant site difficulties and sharing of procedural strategies to promote long-term implant site health. Submissions should focus on one or more of the following topics: biologic response to CIED foreign body implants, strategies for achieving long-term predictable outcomes for CIED implant sites, or surgical techniques for CIED implant site management.
 
Recognition: To ensure your work receives the exposure it deserves, all published articles will be indexed in PubMed Central and distributed to large communities of related medical specialists around the globe.
 
Awards: Three monetary honorariums will be awarded to the published articles that receive the highest Cureus SIQ (Scholarly Impact Quotient) score: $5,000 USD for 1st place, $2,000 USD for 2nd place, and $1,000 USD for 3rd place. SIQ is Cureus' unique crowdsourced, post-publication peer-review process, where the community-at-large rates each article's clinical importance and presentation quality.
 
Key Dates:

Tuesday, December 22, 2020 – Submission deadline @ 5:00 pm ET 
Tuesday, March 2, 2021 – SIQ scoring deadline @ 5:00 pm ET
Thursday, March 4, 2021 – Winning articles announced
Join the community of clinicians entering the competition today – use the button below to get started.
VIEW COMPETITION
---
Coming soon: more author options and flexibility for navigating peer review!
Authors will soon be able to end the peer review period while revising their article after satisfying peer review requirements. In addition, if your article has received at least two author-invited reviews and you're waiting on a Cureus-invited review, you'll be able to end the review period for all author-invited reviews to ensure you don't continue to receive reviews that don't help your article satisfy review requirements. We'll be sharing more about these new options next month!
---
As always, we conclude this month's newsletter with a sincere thank you to all of our dedicated authors and reviewers, as well as those readers who have contributed their SIQ scores and commented on articles. Stay tuned for more news and updates next month!
- The Cureus Team