Cureus October 2020 Newsletter
January 06, 2021 | Newsletter
JOURNAL OF MEDICAL SCIENCE
NEWSLETTER | OCTOBER 2020
Hi,
We're back with the October edition of our monthly newsletter.
For those of you who missed the announcement last month, we now require that all articles receive at least one completed review from a Cureus-invited peer reviewer. In the weeks since making this change, we've received plenty of feedback from authors and as a result we have made the following changes:
Authors can choose to send reminders only to Cureus-invited reviewers.
Two new Cureus-invited reviewers are invited every three days (with the three day timer resetting whenever a Cureus-invited reviewer accepts the review invitation).
We have also fixed a technical error that was preventing authors from sending reminders to in-progress reviewers.
We will continue to monitor peer review progress and may make additional changes if needed. At the end of the day, we want to facilitate strong, constructive review, but we also don't want you to wait forever! 
---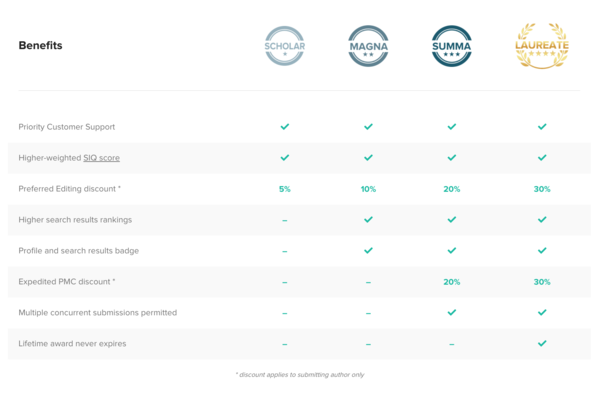 Gain progress towards our Cureus Honors program to earn rewards!
Completing peer reviews will help you progress towards our honors tiers where you'll be rewarded with perks like discounts on our Preferred Editing and Expedited PMC services. And that's not all - Cureus-invited reviews are worth more than twice as much as author-invited reviews so be sure to join our peer review panel! 
EARN REWARDS
---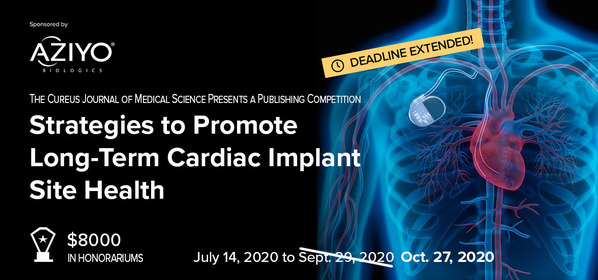 Competition deadline approaching!
We extended the submission deadline, but there are only a few weeks left to submit your article to the first publishing competition on Strategies to Promote Long-Term Cardiac Implant Site Health.
Requirements: We are seeking the following: case reports/series, original articles, technical reports and review articles that contribute to deeper understanding of implant site difficulties and sharing of procedural strategies to promote long-term implant site health. Submissions should focus on one or more of the following topics: biologic response to CIED foreign body implants, strategies for achieving long-term predictable outcomes for CIED implant sites, or surgical techniques for CIED implant site management.
 
Recognition: To ensure your work receives the exposure it deserves, all published articles will be indexed in PubMed Central and distributed to large communities of related medical specialists around the globe.
 
Awards: Three monetary honorariums will be awarded to the published articles that receive the highest Cureus SIQ (Scholarly Impact Quotient) score: $5,000 USD for 1st place, $2,000 USD for 2nd place, and $1,000 USD for 3rd place. SIQ is Cureus' unique crowdsourced, post-publication peer-review process, where the community-at-large rates each article's clinical importance and presentation quality.
 
Key Dates:

Tuesday, October 27, 2020 – Submission deadline @ 5:00 pm ET 
Tuesday, January 12, 2021 – SIQ scoring deadline @ 5:00 pm ET
Thursday, January 14, 2021 – Winning articles announced
Join the community of clinicians entering the competition today – use the button below to get started.
VIEW COMPETITION
---
Ensure your article reaches a wider audience with a Cureus social boost
Our new social boost option allows authors of high-quality articles to purchase social media exposure. Increase awareness of your research and get your article in front of a larger audience of medical and healthcare professionals with our standard or premium social boost options.
Visit your dashboard to find out if any of your recently published articles are eligible for a social boost!
VIEW DASHBOARD
---
---
As always, we conclude this month's newsletter with a sincere thank you to all of our dedicated authors and reviewers, as well as those readers who have contributed their SIQ scores and commented on articles. Stay tuned for more news and updates next month!
- The Cureus Team