Cureus November 2022 Newsletter
November 14, 2022 | Newsletter
JOURNAL OF MEDICAL SCIENCE
NEWSLETTER | NOVEMBER 2022
Hi,
Looking for our popular Social Boost feature? We've changed the name to Article Promotion as we found that some authors were a bit confused by the old name. Get all the details on our Article Promotion feature and if your published article qualifies right here.
A reminder for peer reviewers - please do not bother highlighting language and formatting errors during your peer review. Copy editing is the very last step of the Cureus publication process, so you can count on our editing team to fix these errors. Authors want your valuable insight into the scientific content of their article, whether it be a simple case report or a multi-year prospective study!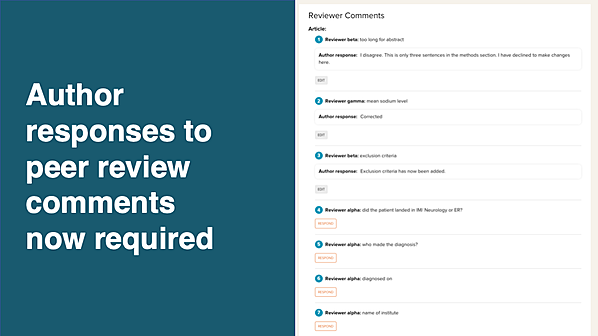 Based on feedback we have received from authors, reviewers, and editors, we now require submitting authors to respond to each peer review comment. These responses will only be visible to the editors and will facilitate faster, more efficient editorial review. The result? Faster publication.
This will also address some reviewer concerns that their comments were not adequately addressed prior to publication. Cureus peer reviewers can rest assured that the author will provide a response to each comment, and that these responses will be reviewed by the editor. While the author does not need to make every change recommended by peer reviewers, they must adequately respond to each comment indicating why they have chosen to revise or not.
As always, thank you for your support and please feel free to let us know what you think of this new feature by emailing [email protected].
---
---
Porn Addiction: Legitimate or Imaginary Behavioral Disorder?
There is a scarcity of research about "porn addiction." Is such behavior merely a variation of human sexuality or is it a pathological compulsive addiction with far-ranging effects on psychological well being?1 For years mental health professionals and researchers have debated what constitutes hypersexual disorders and rightful inclusion in the DSM.2,3
In light of the above, Cureus is calling for scientific articles that broadly relate to the field of pornography and its potential behavioral manifestations.
LEARN MORE
---
Cureus is built and sustained by a diverse group of healthcare professionals who recognize the value of an inclusive approach to academic publishing. Thank you for joining us on our journey as we realize our goal of eliminating barriers to the generation and dissemination of medical knowledge.
Sincerely,
The Cureus Team