Cureus October 2021 Newsletter
October 29, 2021 | Newsletter
JOURNAL OF MEDICAL SCIENCE
NEWSLETTER | OCTOBER 2021
Hi,
This month we're sharing updates on new academic channels and our current competition as well as some exciting programs currently available to Cureus authors.

We are pleased to introduce the two newest additions to our growing library of academic channels: Modern Medical Educator and the Liberty Medical Research Channel.
The Modern Medical Educator Channel (MME) was founded in 2021 to promote medical education research productivity. MedEd is a rapidly growing field that currently has only a few major outlets for publication. The goal of this academic channel is to serve as a forum to disseminate novel ideas which contribute to the evolution of academic medicine.
The Liberty Medical Research Channel is affiliated with Liberty University College of Osteopathic Medicine (LUCOM). The Liberty Medical Research Channel promotes academic and scholarship endeavors in the areas of clinical sciences, medicine, patient care and biomedical sciences throughout the world.
---
Call for Articles: "Autobiographical Case Reports"
Physicians bring a unique perspective to the understanding of any disease and are often poised to provide lifelong outcomes for chronic diseases and/or their treatments. Many doctors are sitting on a treasure trove of medical knowledge learned firsthand through life experience - insights that never get reported in big clinical studies. Countless potential patients and their physicians can benefit from your wisdom. It's time to tell your story in a Cureus case report!
We understand you may not have images related to your case, but we strongly encourage you to include any images you do have. Take a look at this currently published example and submit your case report (all specialties accepted) for the opportunity to be featured on a devoted Autobiographical Case Report page!
Please add "Autobiographical Case Report" as a keyword in your submission. The deadline to submit your "autobiographical case report" is November 30th.
---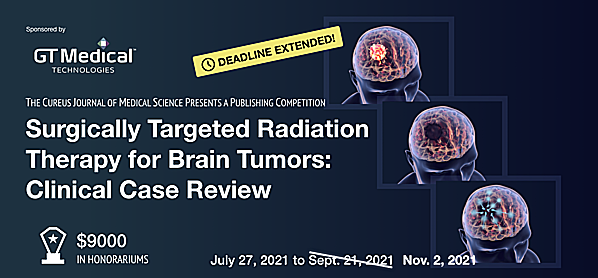 There's still time to prepare and submit your article to the Surgically Targeted Radiation Therapy for Brain Tumors: Clinical Case Review publishing competition. The new submission deadline is Tuesday, November 2, 2021!
We are seeking case reports and case series that explore and document clinical results for brain tumors to encourage continued research and knowledge sharing of recent advances in surgically targeted radiation therapy for brain tumors.
Three monetary honorariums ($3,000 USD each) will be awarded to the highest-rated case report in each histology: glioma, meningioma, and brain metastases. Article ratings are determined via SIQ, Cureus' unique crowdsourced, post-publication peer-review process, where the community-at-large rates each article's clinical importance and presentation quality.
Key dates: 
Tuesday, November 2 – Submission deadline @ 5:00 pm ET 
Tuesday, December 21 – SIQ scoring deadline @ 5:00 pm ET
Thursday, December 23 – Winning articles announced
VIEW COMPETITION
---
Check out our new initiative encouraging authors to submit short video abstract summaries of their Cureus articles that we can share across our social media platforms. These descriptive videos help foster conversation and drive readers to your research. You can find examples of video abstract summaries here and here.

 

To learn more about how to submit your own video abstract, email us at [email protected]. We hope you'll join our social groups on Facebook and LinkedIn and remember to tag #Cureus when tweeting your research so we can retweet your work.


CONNECT ON TWITTER
---
Coming soon: support for peer reviewing via your mobile device. Stay tuned for more details next month!
As always, we are dedicated to reducing the barriers many physicians and researchers face when writing or accessing medical articles and we couldn't do it without your support. We hope you will continue with us on this journey towards a democratic and equitable medical publishing future.
- The Cureus Team