Cureus July 2021 Newsletter
July 14, 2021 | Newsletter
JOURNAL OF MEDICAL SCIENCE
NEWSLETTER | JULY 2021
Hi,
Are you active on LinkedIn? Join our new Cureus group today! What about Twitter? Our portfolio of specialty-focused Twitter accounts continues to grow as we've added Rheumatology and Oncology to the mix - follow for specialty-focused articles and news!
This month we have a major submissions policy change to share with you as well as brand new author dashboards.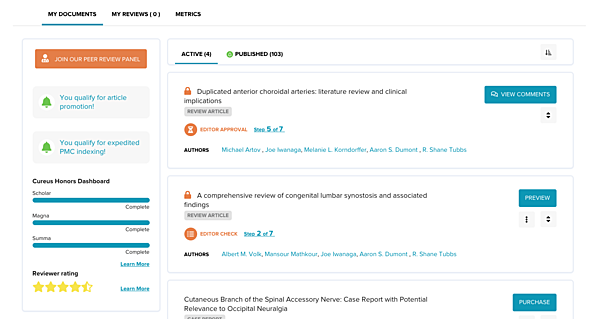 Author dashboards have been redesigned from the ground up
Have you visited your dashboard lately? The My Documents tab has been completely redesigned to provide you with more information and enable you to quickly take action wherever needed - check on the progress of a current submission, review your honors status, join our peer review panel, purchase a social boost or expedited PMC indexing and more!
Click the 'three dots' button to view menu items for each article and expand the article to view author and peer review details (when relevant) by clicking the arrow button.
Expect a similar redesign of the My Reviews tab to be released in the next few days!
---
Editor Check deferrals no longer automatically require Preferred Editing!
We've tweaked our submission policy to be a bit more forgiving to authors who make the requested revisions after deferral. As a reminder, the following issues will require correction by the author before our editorial review can proceed.
Scientific/study-related revisions needed
Too much text is duplicated from cited sources
Tables that are incomprehensible, contain multiple values in a single cell or are submitted as figures
Missing media items
Videos that don't play
Visible identifying patient information
Figures that are blurry, stretched, skewed, too dark or require cropping.
If these errors are not fixed or other errors are found (references, subheaders, spelling, grammar, punctuation, etc), the article may still require Preferred Editing.
---
Interested in bypassing the PMC embargo and getting your article indexed as soon as possible? Purchase our Expedited PMC Indexing service to bypass our one-month indexing embargo. And now you can also purchase a bundle at a discount!
Authors who want to maximize their article's reach and audience can purchase a Premium Plus Social Boost. The additional cost goes directly to purchasing more social media ad placements for your article!
---

Our goal has always been to grow into the largest Open Access medical journal in the world and while the New England Journal of Medicine isn't exactly our competition in that area, they are universally regarded as one of the premiere journals in medical publishing. Over a 30 day stretch in May and June of this year, Cureus welcomed nearly 1/5th of the traffic that NEJM received. Meanwhile, visitors to Cureus spent over 50% more time per visit compared to NEJM.
The NEJM has been around since 1812 and maintains stratospheric profit margins. Meanwhile, Cureus was founded just over a decade ago and is committed to reducing the barriers to publication faced by so many authors.
All of a sudden that difference doesn't seem so daunting, does it? And did we mention Cureus is completely Open Access? No paywalls, low or no author fees, and publication time measured in weeks, not months.
Big doesn't always equal best - join the fastest-growing Open Access journal in medical publishing. There's a better way to publish and share peer-reviewed medical knowledge.
---
Cureus is dedicated to reducing the barriers many physicians and researchers face when writing or accessing medical articles and we couldn't do it without your support. We hope you will continue with us on this journey towards a democratic and equitable medical publishing future.
- The Cureus Team