Cureus August 2020 Newsletter
August 13, 2020 | Newsletter
JOURNAL OF MEDICAL SCIENCE
NEWSLETTER | AUGUST 2020
Hi,
Welcome to another installment of our monthly update to all registered Cureus users.
Thanks in advance for your patience and support as Cureus continues its unprecedented growth - we're on pace to publish over 5,000 articles this year alone! We are continuing to expand our editorial team to handle all of your submissions. At the moment, articles submitted to editor approval (after peer review) are taking a bit longer than we would like, but trust us when we say we're working on it!
Our team is hard at work streamlining our editorial process to ensure articles are peer-reviewed and published even faster - stay tuned for more info next month!
---
Cureus is committed to reducing barriers to publication for authors all over the world. What does that mean in practical terms? Open Access, free and low-cost publication, fast publication times and none of the backroom political maneuvering that dominates traditional journals such as JAMA or NEJM.
We'd like to think this is a goal that everyone can agree with, but there are still gatekeepers who don't seem to "get it" and Cureus Founder and Editor-in-Chief Dr. John Adler is here with his latest blog post on the challenges faced by Cureus as we attempt to reframe academic publishing around a transparent, democratic process.
READ OUR BLOG
---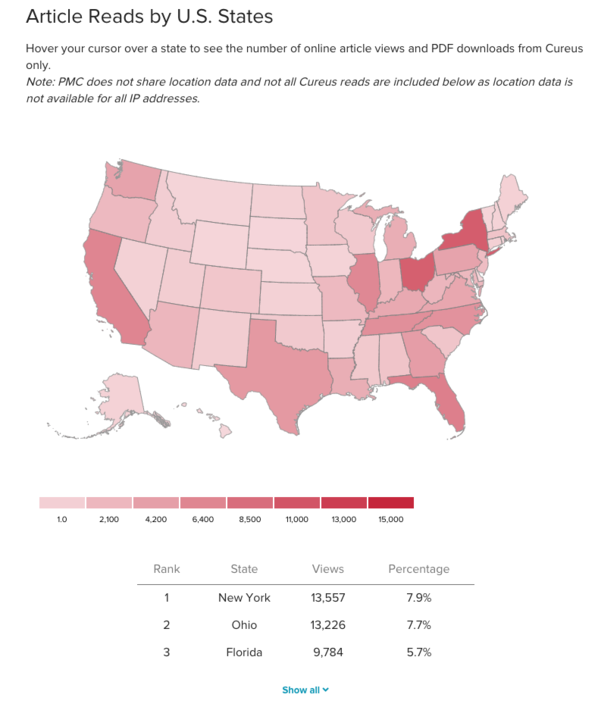 We've added a United States map to the article metrics page allowing you to view the number of online views and PDF downloads by state!
VIEW EXAMPLE
---
Don't forget to share the good news and promote your newly published article! Amplify the reach of your research through the power of social media. Make sure to follow and tag Cureus on our social media channels so that we can find and share your work with our community:
---
As always, we conclude this month's newsletter with a sincere thank you to all of our dedicated authors and reviewers, as well as those readers who have contributed their SIQ scores and commented on articles. Stay tuned for more news and updates next month!
- The Cureus Team