Cureus December 2019 Newsletter
January 24, 2020 | Newsletter
JOURNAL OF MEDICAL SCIENCE
NEWSLETTER | DECEMBER 2019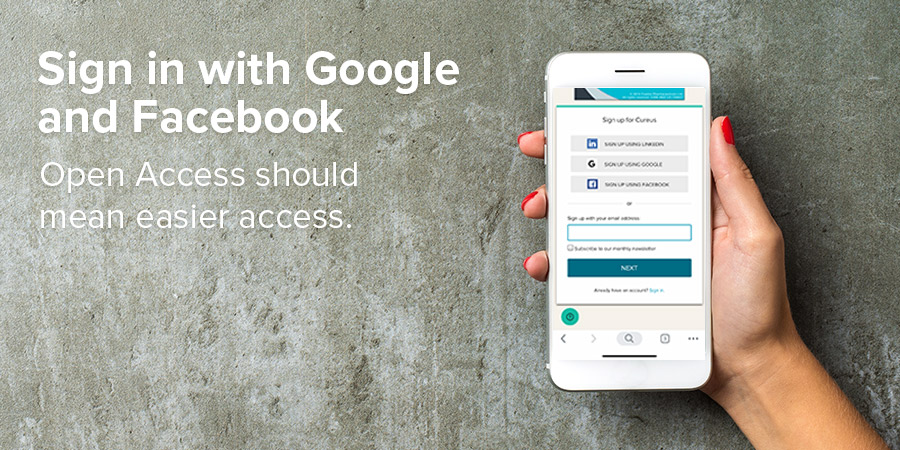 Hi,
We're finishing the year on a strong note with new features, user emails and a publishing competition right around the corner. Read on for the latest news from the Cureus Journal of Medical Science.
Newly added Google and Facebook authentication
In addition to signing in with your email address or LinkedIn account, you can now quickly log in to Cureus via your Google or Facebook accounts. With mobile users increasing, this is just another step in making it easier to connect with the Cureus community.
Surgical wound care competition coming next month!
Look out for our next publishing competition - 'Clinical Applications and Benefits Using Closed-Incision Negative Pressure Therapy with Novel Dressings' - launching on January 7, 2020!
Introducing Cureus U - our curated collection of articles just for you
This week we began sending out curated emails featuring the best of our recently published articles categorized by specialty. We know you don't always have time to browse the Cureus article library so we're bringing some of our best articles directly to your inbox. Keep an eye out for the Cureus U email in your medical specialty.
Happy holidays from Cureus!
From our team to yours, we want to wish you a very merry holiday season as we close out 2019. While our offices will be closed for the holidays, our editorial team never stops and we'll continue to accept, review and approve article submissions throughout the holidays.
We'll be be back in January with a look back at Cureus in 2019. Have a great year's end!
- The Cureus Team