Cureus March 2020 Newsletter
April 09, 2020 | Newsletter
JOURNAL OF MEDICAL SCIENCE
NEWSLETTER | MARCH 2020
Hi,
With the COVID-19 pandemic spreading across the globe, we are facing an unprecedented public health crisis. Lockdowns and  quarantines dominate the headlines, while our must vulnerable are at even greater risk. Meanwhile, fear and misinformation spread like wildfire. Peer-reviewed medical knowledge has never been more important and we are publishing findings related to this pandemic as fast as we can.
In the meantime, we would like to thank you for all that you do as a healthcare provider or researcher. Without your hard work and expertise, the world would surely be in far worse condition. We are continuing to accept and publish articles as our entire team is now working remotely - read on for the latest and greatest from the Cureus Journal of Medical Science.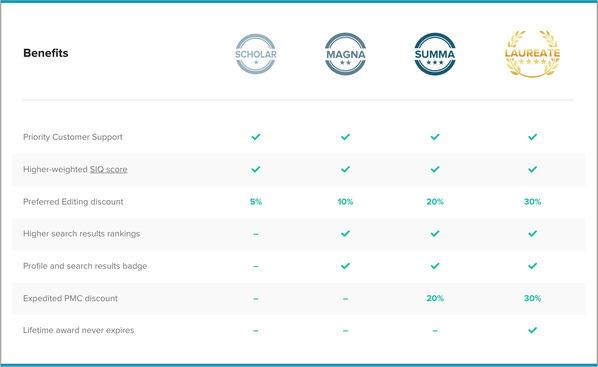 Cureus Honors: rewarding your Cureus contributions
We recently launched Cureus Honors, a rewards program through which you can earn a variety of benefits to further enhance your Cureus experience. (Benefits are listed in the above chart.)
Progress towards one of our rewards tiers can be tracked via the new Cureus Honors Dashboard, located on your Cureus profile page. Have you already qualified for a rewards tier? Take a look and find out!
---
Revamped homepage highlights articles, authors & reviewers
Cureus has a brand new homepage! Our improved search tool is now front and center so you can quickly find articles, authors and posters. The homepage also features a rotating carousel of featured content from the Cureus newsroom as well as recent top articles sorted by specialty.
Last, but not least, scroll to the bottom of the page to view featured authors and reviewers. All of this content will be continually updated so be on the lookout for updates!
---
---
Finally, one more reminder that automated peer review certificates are now available to all users who have completed at least one article review. You can download your certificate right now on the My Reviews tab of your dashboard. It will automatically update after each subsequent review, ensuring you are always just a click away from downloading an official certificate acknowledging your Cureus review contributions. Thank you for your support!
---
As always, we conclude this month's newsletter with a sincere thank you to all of our dedicated authors and reviewers, as well as those readers who have contributed their SIQ scores and commented on articles. Stay tuned for more news and updates next month and remember to wash your hands!
- The Cureus Team