Cureus May 2023 Newsletter
May 11, 2023 | Newsletter
JOURNAL OF MEDICAL SCIENCE
NEWSLETTER | MAY 2023
Hi,
Have you tried browsing our library of peer-reviewed articles lately? With over 38,000 published articles, finding what you are looking for can seem daunting.
That's why we're pleased to introduce our brand new Browse Articles page.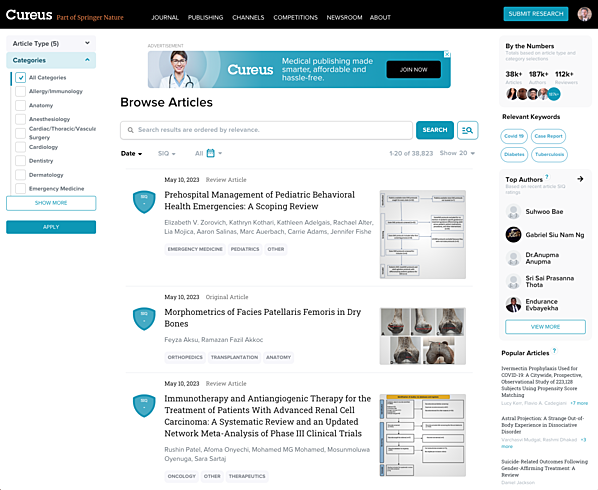 You can filter by article type and topic, sort by date and SIQ score, and search by affiliation, author, title, keyword and more. Top authors and popular articles are also displayed along with trending keywords. We'll be overhauling our Browse People page next!
---
Editorial Policy Updates
Below are some of the latest editorial policy updates, all presented in one place for your convenience.
AI Chatbots, also Known as Large Language Models
No LLM tool, such as OpenAI's ChatGPT, will be accepted as a credited author on an article. That is because any attribution of authorship carries with it accountability for the work, and AI tools cannot take such responsibility. Authors using LLM tools should document this use in the Materials and Methods or Acknowledgements sections. Articles written entirely by an LLM tool will not be accepted.
Case report author contributions
Author contributions must be listed in the acknowledgements section for case reports with more than five authors.
Published article correction requests
Cureus publishes corrections to address errors of scientific fact in published articles. Errors that invalidate the work (typically by affecting the results and conclusions) are not eligible for correction and will instead result in article retraction. Cureus does not publish corrections of minor issues that do not substantively impact the article's scientific integrity or understanding.
Corrections related to author institutional affiliation errors will be considered at the discretion of the editorial staff. If permitted, these corrections require a $300 fee to offset the considerable time and resources expended by the journal in evaluating and replying to these requests. Authors are provided with multiple opportunities to ensure that their institutional affiliations are correct prior to publication.
VIEW AUTHOR GUIDE
---
The Wall of Shame and Recentering the Focus on the Academic Record
As a peer-reviewed medical journal, we have a fundamental responsibility to ensure that potentially dangerous medical misinformation is not published. With traditional research integrity methods sometimes falling short, we decided to conduct an experiment by highlighting authors who have committed egregious ethical violations as well as the institutions that enabled them. While we will never abandon this responsibility, we have decided to remove the Wall of Shame tomorrow.
READ MORE
---

We're extending the submission deadline for our latest call for submissions! Screwed-up medical systems are a global problem, but successful healthcare models also exist in surprising locations. Quality, cost, equity, innovation, regulation, and more - where does your country fall short in its healthcare systems, and where does it excel?
Eligible submissions from authors of all backgrounds, including healthcare professionals, researchers, and policymakers, will undergo editorial and peer review prior to publication.​​​
New Deadline: Friday, May 26th
LEARN MORE
---
Cureus is dedicated to eliminating the barriers many physicians and researchers face when writing or accessing medical articles and we couldn't do it without your support. We hope you will continue with us on this journey towards a democratic and equitable medical publishing future.
With gratitude,
The Cureus Team