Cureus January 2023 Newsletter
January 13, 2023 | Newsletter
JOURNAL OF MEDICAL SCIENCE
NEWSLETTER | JANUARY 2023
Hi,
In celebration of the new year, we want to take a moment to review our growth as a journal as well as the many improvements made to our platform. 2022 was the biggest and most exciting year yet for Cureus. Joining Springer Nature is just one of many milestones made possible by your support. Click below to view our team's celebratory "Cureus Wrapped" video.
---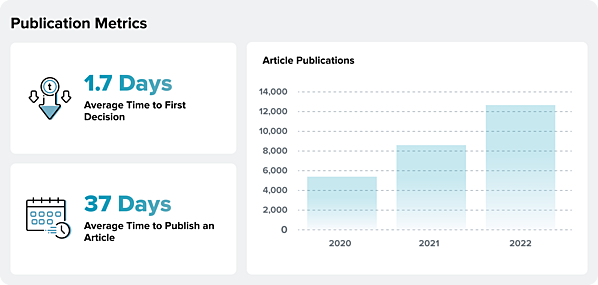 Numbers to Know
Article publications grew from 8,400+ in 2021 to 12,300+ in 2022 - a 46% increase! Our goal is to publish more than 19,000 articles in 2023 from authors all around the world.

Our audience also increased significantly. Cureus received over 28M pageviews in 2022. That's a 65% increase over 2021's 17M pageviews. 

With continual focus on streamlining the publication process and increasing efficiency, the average time to publish an article has decreased to just 37 days with 55% of articles publishing within 4 weeks or fewer.
We believe these numbers tell two important stories:
Cureus is increasingly becoming one of the most popular places to publish medical knowledge.

Cureus is a space in which clinicians and researchers can connect, discuss, and evaluate  peer-reviewed medical science.
 
New Features and Enhancements
Here are just a few of our notable features and enhancements released last year:
We took the extraordinary step of publishing a Wall of Shame to highlight unethical behavior and dissuade future misconduct. While the announcement was not without controversy, we have seen a significant decrease in fraud and author misconduct in the months since.
The new Cureus homepage provides more resources for authors, reviewers and readers while introducing several brand new elements like our popular Picture Prognosis feature.
We took several steps to improve our peer review experience, introducing mobile support for reviewers while also strengthening the article requirements for satisfying peer review.
---
Academic Channels
We welcomed a record number of new academic channels in 2022. Departments and organizations continue to recognize the value delivered by a Cureus channel for discounted publishing rates, fast-paced publishing, and building their brand.
With our academic channels now featuring a brand new design with loads of new features, there's never been a better time to join in this exciting and innovative promotion opportunity
LEARN MORE ABOUT CHANNELS
---
Cureus is dedicated to eliminating the barriers many physicians and researchers face when writing or accessing medical articles and we couldn't do it without your support. We hope you will continue with us on this journey towards a democratic and equitable medical publishing future.
With gratitude,
The Cureus Team