April 2022 Newsletter
April 18, 2022 | Newsletter
JOURNAL OF MEDICAL SCIENCE
NEWSLETTER | APRIL 2022
Hi,
Hopefully you've noticed that Cureus is looking a bit different these days - we redesigned our homepage to highlight more articles, active discussions, trending topics and more. Take a look and keep an eye out for more new sections featuring opportunities to engage directly with us via quizzes, polls and more. Meanwhile, time to publish continues to decrease!

Articles submitted from October 2021 through March 2022 saw a 25% decrease in median publication time compared to the prior six month period (April - September 2021)! The traditional academic publishing industry has conditioned us to think this is too good to be true, but it's not. Fast, efficient, low-cost publication without compromising quality is possible!
Earlier this week, we released our Wall of Shame, highlighting authors whose misconduct has resulted in article retractions. Although Cureus has no desire to shame anyone, the journal has a fundamental responsibility to ensure that potentially dangerous medical misinformation is not published. It is our contention that by shaming a few of the worst "bad apples," we can prevent hundreds or even thousands of future offenses, thereby ensuring the well-being of countless patients.
With that being said, it's clear that we failed to provide adequate details and transparency around who was selected and why. Cureus is committed to battling inequity in the medical publishing space, and through our lack of transparency here we have clearly come up short in that commitment. We are already working on improvements to better address these shortcomings and look forward to sharing them with you in the near future.
---
Sponsored by IRRAS

Presentation of Largest Dataset to Date Documenting Use of IRRAflow System Confirms Potential Improved Outcomes Compared to Traditional Drainage Solutions
The neurosurgery team from the Rockefeller Neuroscience Institute at West Virginia University and WVU Medicine Ruby Memorial Hospital (WVUH), led by Dr. Nicholas Brandmeir, presented the clinical outcomes from the first 45 patients they treated with the new breakthrough technology, IRRAflow, a dynamic system that provides a therapeutic approach to treating
intracranial bleeding.
LEARN MORE
---
PSA: Please don't assume that the editor working on your article is male! We would appreciate the use of gender-neutral pronouns when addressing editors during article submission. In fact, this is a good practice to employ in your articles as well; we strongly recommend using gender-neutral pronouns when referring to patients. Thank you for your consideration as we strive to be inclusive and welcoming to all genders (not to mention race, religion and sexual orientation)!
---
Have you visited our newsroom lately? Recently highlighted articles and new calls-for-articles on focused topics can be found here. Check it out and don't forget to subscribe to our Cureus U and Most Popular Articles email digests while you're at it!
VIEW NEWSROOM
---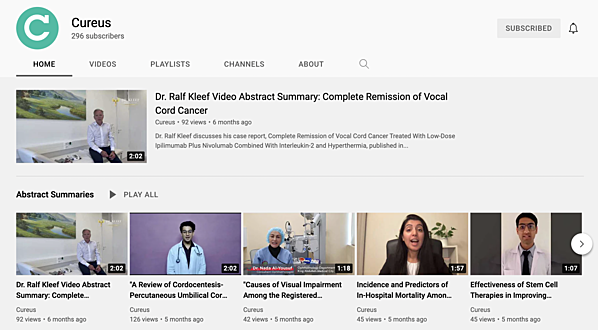 And if you haven't already, please consider subscribing to the Cureus YouTube channel! Browse our specialty-based playlists, and watch video abstract summaries, surgical technique videos, VR 360 Degree anatomical videos, and more. Don't forget to "like" your favorite content and leave a comment.
SUBSCRIBE NOW
---
Thank you to all of the Cureus authors, peer reviewers and readers for your support as we continue on our mission to eliminate the barriers to the generation and dissemination of medical knowledge.
With gratitude,
The Cureus Team