Florida medical schools partner with Cureus to publish their medical research

Majority of Florida's medical schools (7 out of 10) will direct their faculty, residents and students to publish their research in Cureus.  University of Central Florida College of Medicine has been in partnership with Cureus for the last 4 years publishing close to 150 articles in it's Flagship Academic Channel.  Now this channel is being expanded to allow most of Florida's medical schools to publish with Cureus also.  Please read part of the UCF news article below or click here for the full article.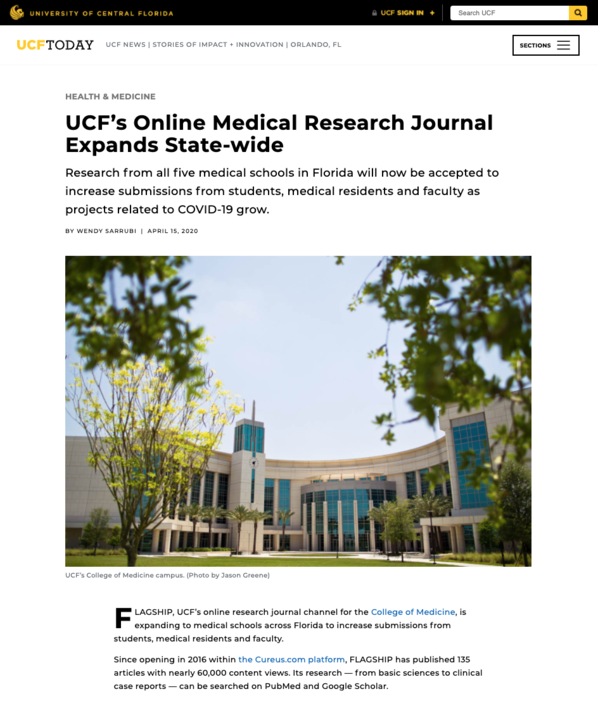 UCF'S ONLINE MEDICAL RESEARCH JOURNAL EXPANDS STATE-WIDE
Research from all five medical schools in Florida will now be accepted to increase submissions from students, medical residents and faculty as projects related to COVID-19 grow.
BY WENDY SARRUBI | APRIL 15, 2020
FLAGSHIP, UCF's online research journal channel for the College of Medicine, is expanding to medical schools across Florida to increase submissions from students, medical residents and faculty.
Since opening in 2016 within the Cureus.com platform, FLAGSHIP has published 135 articles with nearly 60,000 content views. Its research — from basic sciences to clinical case reports — can be searched on PubMed and Google Scholar.
Juan Cendan, the College of Medicine's chair of medical education, says all five public medical schools in Florida — University of Florida, Florida State, University of South Florida, Florida Atlantic and Florida International — have agreed to participate in FLAGSHIP along with Lake Erie College of Osteopathic Medicine. FIU expects to be the first to join FLAGSHIP soon.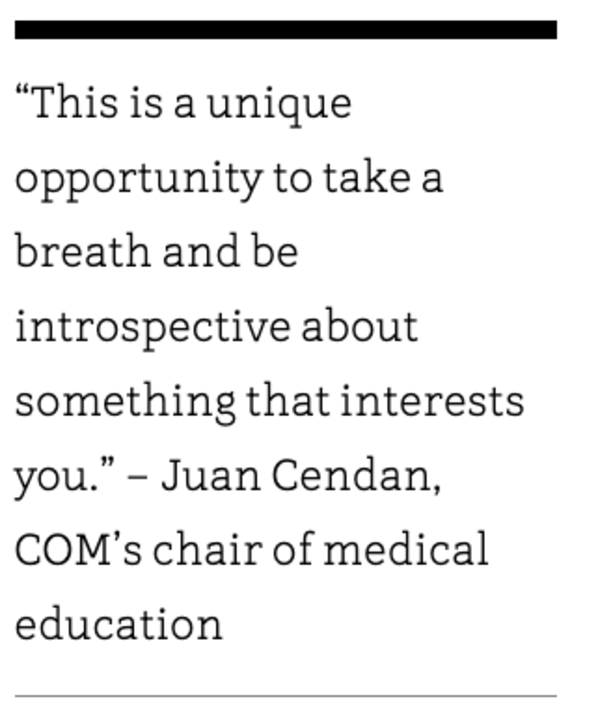 As students, faculty and staff work remotely because of the COVID-19 pandemic, Cendan and other medical school leaders have urged colleagues to use the time away from campus to do research and other scholarly activity. "This is a unique opportunity to take a breath and be introspective about something that interests you," Cendan says, "to reflect on what's happening in the world at large and study it."
The societal impact of COVID-19 offers myriad research opportunities, he added, noting that Cureus.com added 35 new research studies on the pandemic in just the past two weeks. Topics ranged from how COVID-19 had impacted subway ridership in Seoul, South Korea to research on muscle breakdown in patients suffering from the virus.