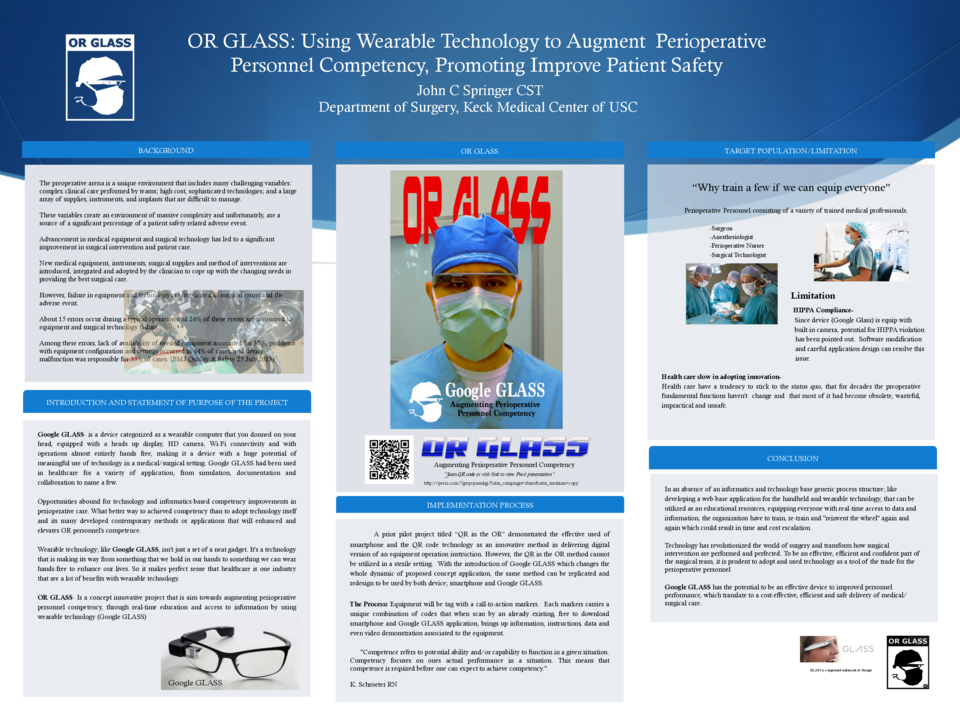 OR GLASS: Using Wearable Technology to Augment Perioperative Personnel Competency, Promoting Improve Patient Safety
---
Abstract
BACKGROUND
Advancement in medical equipment and surgical technology has led to a significant improvement in surgical intervention and patient care.
However, failure in equipment and technology are implicated in surgical errors and the adverse event.
About 15 errors occur during a typical operation and 24% of these errors are accounted to equipment and surgical technology failure.
Among these errors, lack of availability of needed equipment accounted for 37%, problems with equipment configuration and settings occurred in 44% of cases, and device malfunction was responsible for 33% of cases. (BMJ Quality & Safety 25 July 2013)
INTRODUCTION AND STATEMENT OF PURPOSE OF THE PROJECT
Opportunities abound for technology and informatics-based competency improvements in perioperative care. What better way to achieved competency than to adopt technology itself and its many developed contemporary methods or applications that will enhanced and elevates OR personnel's competence.
OR GLASS- Is a concept innovative project that is aim towards augmenting perioperative personnel competency, through real-time education and access to information by using wearable technology (Google GLASS)
IMPLEMENTATION PROCESS
Equipment will be tag with a call-to-action markers. Each markers carries a unique combination of codes that when scan by an already existing, free to download smartphone and Google GLASS application, brings up information, instructions, data and even video demonstration associated to the equipment.
TARGET POPULATION/LIMITATION
"Why train a few if we can equip everyone"
Perioperative Personnel-consisting of a variety of trained medical professionals.
Limitation
HIPPA Compliance-
Since device (Google Glass) is equipped with a built-in camera, a potential for HIPPA violation has been pointed out. Software modification and careful application design can resolve this issue.
Healthcare slow in adopting innovation-
Healthcare has a tendency to stick to the status quo, that for decades the preoperative fundamental functions haven't change and that most of it had become obsolete, wasteful, impractical and unsafe.
CONCLUSION
Google GLASS has the potential to be an effective device to improved personnel performance, which translate to a cost-effective, efficient and safe delivery of medical/surgical care
---
Related articles