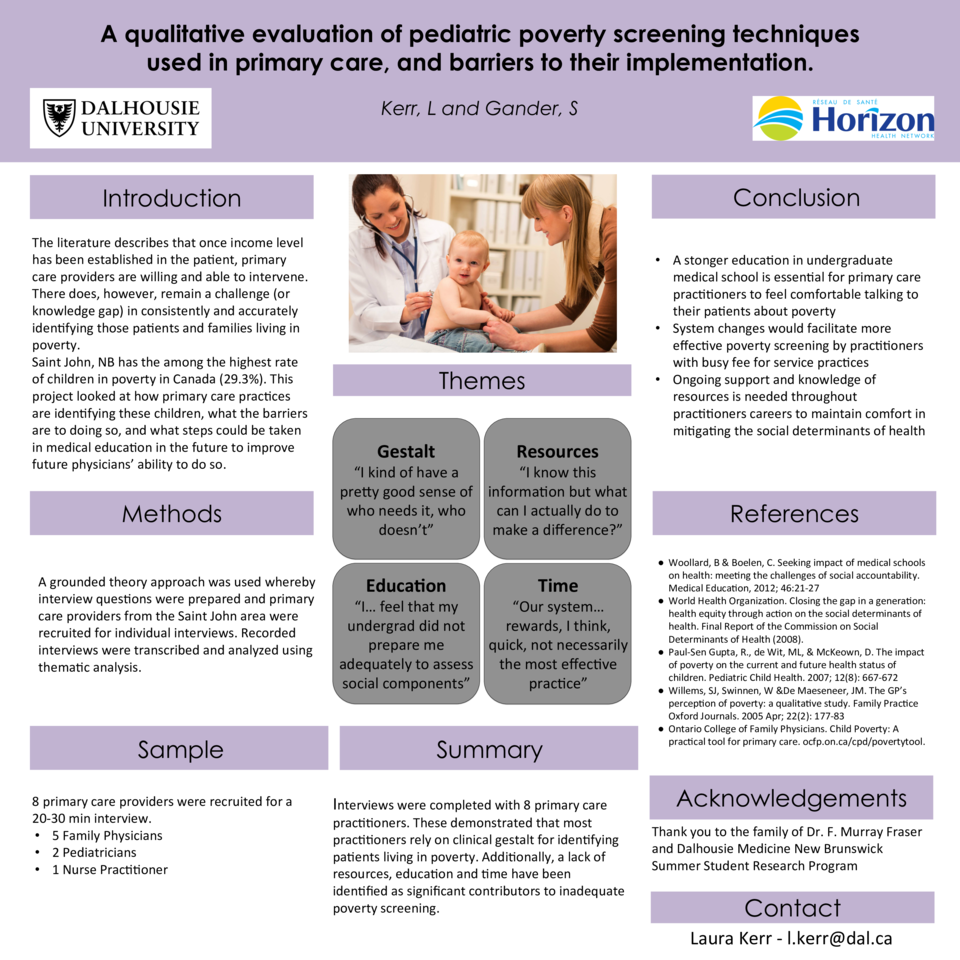 A Qualitative Evaluation of Pediatric Poverty Screening Techniques Used in Primary Care, and Barriers to Their Implementation.
---
Abstract
The literature describes that once income level has been established in the patient, primary care providers are willing and able to intervene. There does, however, remain a challenge (or knowledge gap) in consistently and accurately identifying those patients and families living in poverty. Saint John, NB has one of the highest rates of children in poverty in Canada (29.3%). This project looked at how primary care practices are identifying these children, what the barriers are to doing so, and what steps could be taken in medical education in the future to improve future physicians' ability to do so.
A grounded theory approach was used whereby interview questions were prepared and primary care providers from the Saint John area were recruited for individual interviews. Recorded interviews were transcribed and analyzed using thematic analysis.
Interviews were completed with 8 primary care practitioners. These demonstrated that most practitioners rely on clinical gestalt for identifying patients living in poverty. Additionally, a lack of resources, education, and time have been identified as a significant contributors to inadequate poverty screening.

A stronger education in undergraduate medical school is essential for primary care practitioners to feel comfortable talking to their patients about poverty. System changes would facilitate more effective poverty screening by practitioners with busy fee for service practices. Ongoing support and knowledge of resources is needed throughout practitioners careers to maintain comfort in mitigating the social determinants of health.
---
Related articles