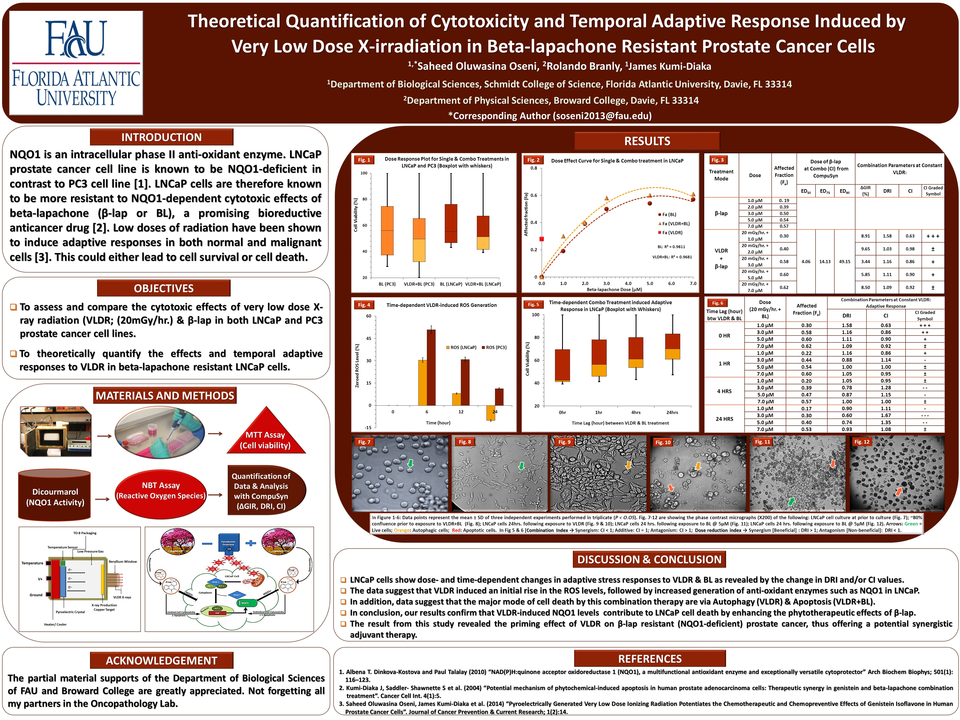 Theoretical Quantification of Cytotoxicity and Temporal Adaptive Response Induced by Very Low Dose X-irradiation in Beta-lapachone Resistant Prostate Cancer Cells
---
Abstract
BACKGROUND: NQO1 is an intracellular phase II anti-oxidant enzyme. LNCaP prostate cancer cell line is known to be NQO1-deficient in contrast to PC3 cell line. LNCaP cells are therefore known to be more resistant to NQO1-dependent cytotoxic effects of beta-lapachone (β-lap), a promising bioreductive anticancer drug. Low doses of radiation have been shown to induce adaptive responses in normal and malignant cells. This could either lead to cell survival or cell death.
OBJECTIVES: The aim of this study was to theoretically quantify the effects of very low dose x-ray radiation (VLDR) at 20 mGy/hr. in LNCaP cells before and after treatment with β-lap.
METHODOLOGY: MTT assay was used to assess the cell viability and growth inhibition in cultured LNCaP and PC3 cells exposed to both VLDR and graded doses (1-7 µM) of β-lap singly or in combination. Light and phase contrast microscopy were used to check for apoptosis and autophagy. To assess induced adaptive response, period of time between priming with VLDR and treatment with doses of β-lap was varied from 1 to 24 hours. Modified median effect equation and CompuSyn software were used to analyse and determine the combination index and dose reduction index. Time-dependent change in ROS levels was also assessed by NBT assay after exposure to VLDR.
RESULT & CONCLUSION: The data revealed that initiation of adaptive responses following pre-exposure to VLDR and β-lap are time and dose-dependent.
---
Related articles